Elegant Feel For A Fraction Of The Cost
Ideal Baths is your premier choice for tub to shower conversions, walk-in custom bathtubs, custom replacement showers, and custom replacement bathtubs. What makes our products unique? All of our bath systems are manufactured with 100% non-porous acrylic that is completely resistant to mold and mildew.
Bathtub to Shower Conversions, Walk-in Bathtubs, Custom Showers, Custom Bathtubs & More From Ideal Baths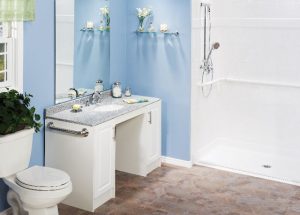 Since all of our shower and bathtub systems are custom manufactured, you can design the new shower or bathtub of your dreams. Our sleek wall surrounds are individually manufactured to ensure a perfect fit and are available in a number of colors and patterns, including simulated marble, granite, stone, and subway tiles, among other gorgeous finishes. You'll also have the option to choose from a number of built-in accessories, such as safety grab bars, foot pedestals, soap caddies, shelves, and seats. Our experienced staff can work with you to design the shower, walk-in bathtub, or custom bathtub system that meets each and every one of your needs.